Hydroponic gardening allows you to grow plants indoors using only water and essential nutrients.
It sounds simple enough, but there are a few things you need to know before starting your hydroponic grow media.
First, maintaining the proper nutrient balance and water pH in a soilless system is trickier than just throwing seeds into dirt.
Beginners often burn delicate roots by over or under watering.
Second, choosing the right grow lights, plant varieties, and ventilation is key for a thriving garden without soil.
Too much humidity inside can sprout more than just plants!
I know from experience that these variables seem daunting at first.
But with the proper planning anyone can succeed with hydroponics.
Just ask your local garden store which herb and vegetable seedlings adapt best to a nutrient solution with minimum fuss.
In my trials, basil, lettuce and peppers thrived best for newcomers.
Measure your grow area first before planting too.
Crowding will lead to competition for light, water and food.
Finally, starting small is best until you get the hang of soilless cultivation.
Perfection comes with practice, so baby steps lead to bigger harvests.
KEY TAKEAWAY
How to use a hydroponic grow box?
To use a hydroponic (1) grow box, start by assembling it according to the provided instructions, ensuring proper placement of the reservoir, pump, and lighting.
Then, plant your desired crops in the grow medium, monitor nutrient levels, and maintain a suitable environment for optimal plant growth, adjusting factors like light, temperature, and humidity as needed.
How to Build A Hydroponic Grow Tent
Growing plants without soil? Yup, it's possible with hydroponic grow boxes! These nifty systems let you cultivate lush greens, herbs, fruits, and veggies indoors without getting your hands dirty.
So where do you start if you want to build your own hydroponic grow box? Let me walk you through it step-by-step.
First, you'll need to get your hands on some essential gear.
A grow tent is key – it creates a controlled environment for your hydroponic garden to thrive in.
Next up, LED grow lights.
These energy-efficient bulbs provide the spectrum of light your plants need to mimic outdoor growing conditions.
You'll also need net pots or baskets to hold your plants, and an air pump with air stones to properly oxygenate the nutrient solution your plant roots soak in.
Oh, and speaking of nutrient solution, you'll have to mix up the perfect concoction of macro and micronutrients tailored to the plants you're growing.
Once you've gathered all your hydroponic ingredients, it's time for assembly.
Set up your grow tent, install the LED lights at the ideal height, and build your hydroponic system of choice.
Popular options are deep water culture, NFT channels, and drip systems.
Gently place your seedlings or clones in net pots filled with clay pebbles or grow media.
And voila! Your hydroponic grow box is ready for lift-off.
Monitor the pH and nutrient levels, and let your indoor greens flourish!
How to Grow Hydroponically with Grow Tent
Eager to dip your toes into hydroponic gardening? Here's a quick guide to starting your first indoor hydroponic system:
Choose Wisely
Lettuce, spinach, herbs, and strawberries are all great beginner-friendly plants.
Tomato and pepper plants can work too with enough ceiling height.
Go for plants that don't require pollination for the first time.
Purchase Quality Gear
Invest in a sturdy tent (2), efficient LED grow lights, an air pump and stones, net pots, and a basic hydroponic system like a bucket or tote DWC kit.
Don't cheap out to avoid headaches down the road.
Learn the Basics
Do your homework on ideal lighting schedules, nutrient ratios, pH levels, and water temperature for the plants you picked.
Understanding the fundamentals will make maintenance smoother.
Start Seedlings
Many plants do best when started as seedlings before going into your hydroponic system.
This gives sensitive roots time to establish.
Monitor Conditions
Pay close attention to your lighting times, water temperature, pH fluctuations, nutrient concentration, and plant health.
Make adjustments as needed.
Enjoy the Fruits of Your Labor
With some patience and attentive care, you'll soon be rewarded with fresh hydroponic produce right from your indoor oasis!
Take it slowly, have fun, and don't be afraid to experiment as you embark on your first hydroponic adventure.
How to Build a Hydroponic Grow Box Tent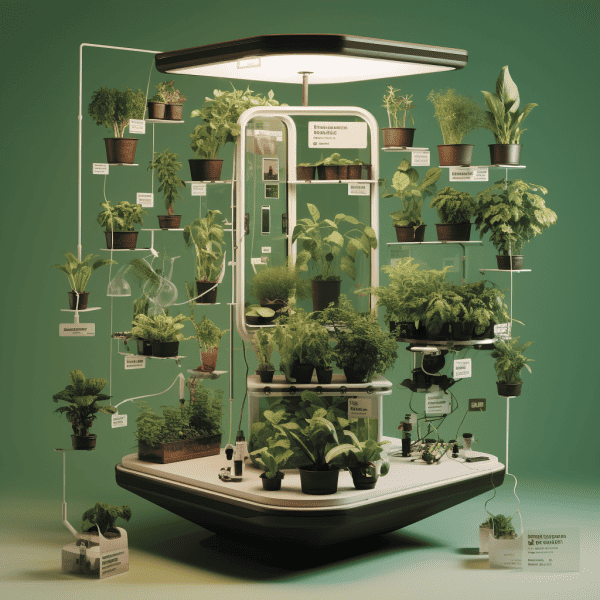 Let's get into the nitty gritty of assembling your own hydroponic grow box.
Follow these steps, and you'll have happy plants in no time:
Step 1) Set up your grow tent according to the manufacturer's instructions. Make sure it's secure and ready for your hydroponic system.
Step 2) Time to install the LED grow lights. Hang them evenly from the top of the tent at the recommended distance from where your plants will be.
Step 3) Build your hydroponic system of choice. For deep water culture, place air stones connected to a pump in your reservoir. For NFT systems, set up your growing channels.
Step 4) Add net pots filled with clay pebbles, Rockwool, or another grow media to hold your plants. Secure them in place.
Step 5) Mix your hydroponic nutrient solution according to the specific plants you'll be growing. Check the pH – you want it around 5.5-6.5.
Step 6) Gently place your plant clones or seedlings into the net pots. Be careful with the roots!
Step 7) Turn on the pump and test that everything is circulating properly before letting your plants take the plunge.
And that's the gist of assembling your own hydroponic grow box! Tweak things as needed and watch your plants thrive in their new indoor oasis.
Understanding the Main Types of Hydroponic Systems
When it comes to hydroponic gardening, there are a few main systems out there, each with their own pros and cons.
Here's a quick rundown of the most popular options:
Deep Water Culture (DWC):
This simple system submerges plant roots directly into an oxygenated nutrient solution.
An air pump and stones aerate the water.
Great for beginners!
Nutrient Film Technique (NFT):
A thin film of nutrient solution flows through channels housing the plants.
Their roots dangle into the stream.
Efficient use of water and nutrients.
Wick System:
Absorbent wicks transport nutrient solution from the reservoir up to the plant roots.
One of the most low-tech and affordable hydroponic methods.
Aeroponics:
Plant roots hang suspended in air while a mist of nutrient solution keeps them nourished.
Requires precise equipment but great for advanced growers.
Drip System:
Nutrient solution is dripped directly onto the base of each plant as needed.
Allows for precise control over individual plants.
Ebb and Flow:
The grow tray floods with nutrient solution, then drains it back into the reservoir in cycles.
Keeps plant roots saturated but not waterlogged.
The choice depends on your goals, budget, and level of experience.
I suggest starting simple with DWC or wick systems before moving onto more advanced setups like aeroponics as your skills grow.
The sky's the limit with hydroponics!
The Benefits and Drawbacks of Hydroponic Grow Boxes
Hydroponic grow boxes offer a powerful way to cultivate plants indoors while having control over their environment.
But is a grow box right for you? Let's explore the pros and cons:
Benefits of Hydroponic Grow Boxes
Compact size perfect for apartments or small indoor spaces
Produce higher yields compared to soil since you control the nutrients
Grow veggies and herbs year round regardless of outdoor conditions
Precisely monitor and adjust pH, nutrients, light, humidity etc.
Efficient use of water since it recirculates instead of draining away
Fast growth rates when you optimize the conditions
Potential Drawbacks
More expensive startup costs than soil gardening
Ongoing electricity costs for lighting and pumps
Learning curve for beginners unfamiliar with hydroponics
Regular monitoring needed to maintain ideal conditions
Size limitations – big plants like tomatoes may need more space
Risk of pump failures or nutrient imbalances harming plants
So who can benefit most from a hydroponic grow box? Urban gardeners short on space, indoor gardening enthusiasts, and anyone seeking higher yields from herbs, greens, or veggies are prime candidates.
Just be ready to invest upfront and monitor your system closely.
Do that, and you'll be rewarded with a thriving indoor oasis!
Stealth Grow Tents: Keeping Your Indoor Garden on the Down Low in Water Culture
For some growers, discretion is a top priority.
Enter stealth grow boxes.
These specialized systems let you cultivate fruits, veggies, herbs, and even exotic plants discreetly at home.
Let's explore the pros and cons of using a stealth grow box for your indoor garden.
Benefits of a Stealth Grow Box
Blends seamlessly into your living space, looking like furniture
Significantly reduces noise from fans and pumps
Odor-controlling carbon filters prevent telltale smells
Reflective interior maximizes light efficiency
Enhances privacy and avoids drawing unwanted attention
Can be customized to your space constraints and plant needs
Potential Limitations
More expensive than a regular grow tent
Constrained capacity and plant size/numbers
Complex setup and maintenance for beginners
Require careful monitoring of temperature regulation
So who is a stealth grow box good for? Discreet urban cultivators and indoor gardeners who prioritize privacy.
The boxes allow you to grow personal use amounts of cannabis, veggies, and herbs without broadcasting it.
Just be ready for the higher cost and involved setup.
Do your homework, and your stealth grow will thrive behind closed doors!
Achieving the Perfect Nutrient Balance in Hydroponics
In soil gardening, nutrients are released slowly from organic matter.
But in hydroponics, you become the sole provider of your plants' nutritional needs.
Getting the nutrient balance just right is crucial.
Here are some tips:
Use a pH meter religiously to keep your nutrient solution in the 5.5-6.5 sweet spot. Too acidic or alkaline means nutrient lockout.
Research the ideal nutrient ratios for each growth phase of the plants you're cultivating. More nitrogen for leafy greens, higher bloom nutrients for fruiting plants.
Start with 1/4 strength nutrients and slowly increase to avoid shock. Ease off if you notice leaf burn.
Add beneficial bacteria and enzymes to help absorb nutrients. Keep an eye on water temperature as this affects oxygen levels.
Test and change your nutrient solution frequently to avoid deficiencies. TDS/EC meters help monitor overall strength.
Use reverse osmosis or deionized water if your tap water is hard. The minerals can pile up and cause issues.
Make sure your reservoir size provides adequate volume. Refill on schedule and agitate solutions to avoid stagnation.
The art of mixing the perfect hydroponic nutrient solution takes time to master.
Keep fine-tuning based on your plants' response.
Soon you'll be whipping up tasty nutrient cocktails to keep your hydroponic garden thriving!
Frequently Asked Question around How To Grow with Hydroponic Grow Tent
What are the essential components of a hydroponic grow box?
A typical hydroponic grow box includes key components like LED grow lights or fluorescent bulbs, a grow tent, net pots, an air pump, air stones, and nutrient-rich water solutions.
These elements work together to create an optimal environment for your hydroponic plants to thrive without soil under artificial lighting.
How do I set up a hydroponic grow box?
Setting up a hydroponic grow box involves assembling the grow tent, hanging the LED grow lights, placing net pots for your plants, connecting the air pump and air stones for oxygenation of the water, and mixing the nutrient solution using a food grade testing kit.
Detailed instructions usually come with your grow box kit.
What types of plants can I grow in a hydroponic grow box?
You can grow a wide range of plants in a hydroponic grow box, from herbs and leafy greens to larger crops like tomatoes and peppers.
The key is to choose hydroponic plants that thrive in a soil-less environment and match the lighting conditions provided by your grow lights.
Placing them near a window can supplement the artificial lighting with some natural light.
Effective methods for hydroponic farming and commercial growers involve keeping the flow of fresh water and nutrients in an ideal range for healthy plant growth.
This mimics the hours of sunlight and flow of water hydroponic plants would receive outdoors or in container with water reservoir systems.
How often should I change the water and nutrient solution in my hydroponic grow box?
Regular maintenance is essential.
Typically, change the water and nutrient solution every two to three weeks.
Monitoring the electrical conductivity (EC) and pH level of the water can help you determine when it's time for a change.
Are there any tips or secrets for successful hydroponic gardening with a grow box?
One secret to success is consistency.
Ensure your plants receive the right amount of light, nutrients, and oxygen consistently.
Also, keep an eye on the pH and EC levels, as these factors significantly affect plant health.
Can I grow plants year-round in a hydroponic grow box?
Yes, one of the significant advantages of hydroponic grow boxes is their ability to support year-round growth.
With the right setup and maintenance, you can enjoy a continuous supply of fresh homegrown produce, no matter the season.
Using a hydroponic grow box offers a convenient and efficient way to cultivate plants indoors.
Whether you're new to gardening or a seasoned green thumb, these systems provide an exciting opportunity to grow your own food and enjoy the benefits of soil-less gardening.
Conclusion
I hope you now feel confident in your ability to cultivate an indoor oasis without soil.
Remember to start small, be patient, and enjoy the process of perfecting your techniques.
Feel free to experiment with different crops as your skills advance.
And best of luck with your first harvest – seeing those little veggies grow where floor space used to be is truly rewarding.
Before you dive in totally, I have one final tip.
While these hydroponic systems are convenient and sustainable, don't forget about the joys of working with Mother Nature too.
Be sure to spend some time each week in organic soil and observe the miracle of seeds sprouting with nothing more than sunlight and water.
Now that's real gardening magic!
If you found this guide on indoor growing methods helpful, be sure to check out my upcoming article
Items Needed For Hydroponic System – Detailed Guide
I'll share my top recommendations for which nutrients and grow lights will help you achieve maximum production.
With the right tools, even folks with black thumbs can look forward to an abundant harvest.
Happy growing!
References
https://extension.umn.edu/how/small-scale-hydroponics
https://hydropros.com/blogs/growers-corner/why-you-need-grow-tent#:~:text=Grow%20tents%2C%20also%20called%20grow,like%20a%20garage%20or%20closet.
Related Articles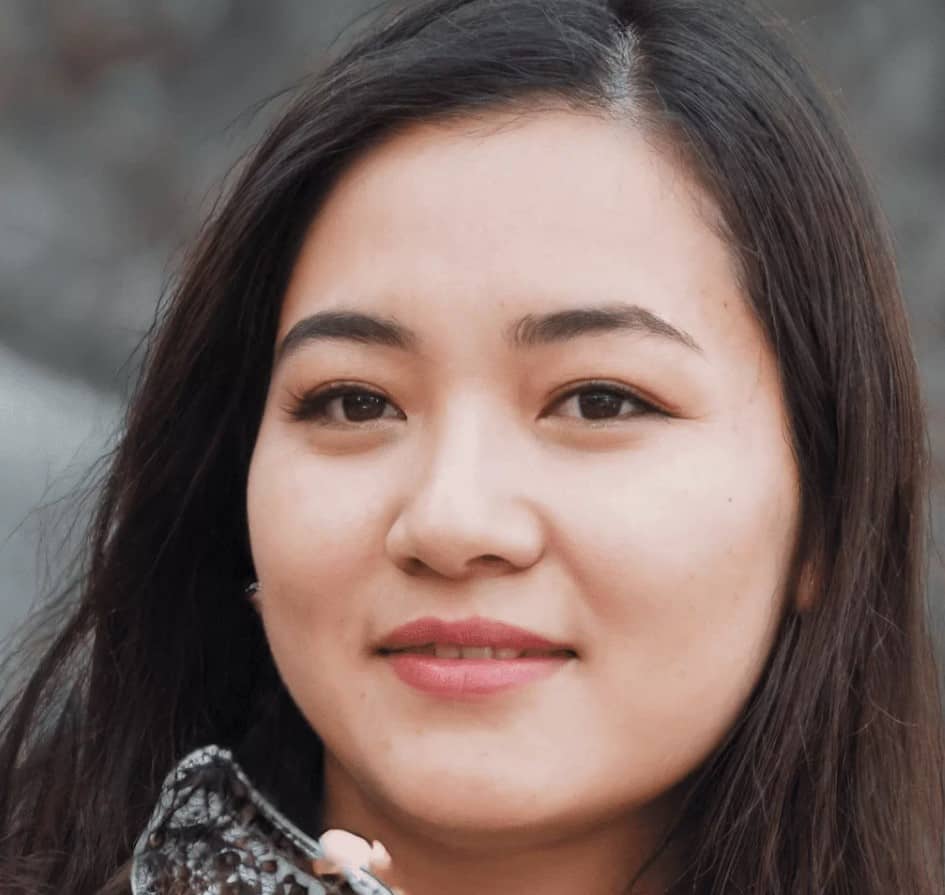 Crystal Erickson is an agriculture enthusiast and writer with a passion for sustainable farming practices and community development. Growing up on a family farm in rural Iowa, Crystal developed a love for the land and a deep appreciation for the hard work and dedication required to make a farm successful.
After completing a degree in Agriculture and Environmental Science from Iowa State University, Crystal began her career as an agricultural journalist, covering stories and issues related to modern farming practices, crop management, and livestock production. She quickly established herself as a respected voice in the industry, known for her insightful reporting and thoughtful analysis.
Over the years, Crystal has written for a variety of publications, including Farm Journal, Successful Farming, and Modern Farmer, as well as contributing to several academic journals focused on sustainable agriculture and community development. Her work has been recognized with numerous awards, including the Iowa Farm Bureau's Young Farmer Achievement Award and the National Association of Farm Broadcasting's Farm Broadcaster of the Year.