Get ready to go from seed to kitchen with the magic of hydroponic herb gardens!
Imagine having fresh basil, oregano, and chives at your fingertips without the fuss of traditional gardening.
Let me spice up this introduction with a few herb-related laughs: What do you call an herb that is always cold? Chive-ring!
Why do herbs make good comedians? They have great timing! Now that we're in better spirits, let me share my own experience growing herbs at home.
As a chef and busy parent, I know how tough it can be to keep fresh herbs on hand.
Then I discovered hydroponic gardens – it was like having a green thumb overnight! No soil, no weeding, just fresh, flavorful herbs whenever I needed them.
In this guide, you'll discover the best hydroponic kits for nurturing basil, cilantro, parsley, and more right on your countertop.
I'll share insider tips for sustaining happy, healthy herbs indoors.
Whether you're a cooking enthusiast or brown thumb, growing hydroponic herbs is fun and doable! Let's dig in.
KEY TAKEAWAY
Hydroponic herb garden kits, what to know?
Hydroponic herb garden kits offer a soil-free method of growing herbs indoors, utilizing nutrient-rich water solutions for optimal growth.
These kits provide an efficient and space-saving way to cultivate fresh herbs year-round, requiring minimal maintenance and offering a consistent supply of flavorful greens for cooking and garnishing.
Factors to Consider When Choosing a Hydroponic Herb Garden Kit
Deciding on the best hydroponic herb garden kit for your needs can feel overwhelming with all the options out there.
But keeping a few key factors in mind will help you pick the right system for nurturing fresh indoor herbs.
The type of hydroponic system is an important consideration.
Simple wick and water culture kits are great for beginners, while more advanced ebb and flow or deep water systems offer automated features for prolific growth.
Make sure to match your gardening experience level with the appropriate system.
Look at the number of pods or plant spaces each kit provides.
Solo pods limit you to one herb, while multi-plant systems let you grow a vibrant herb variety.
Consider how many fresh herbs you cook with to determine space needs.
Ease of setup and use is crucial for hydroponic novice gardeners.
Look for kits with simple instructions and components that click together intuitively.
Automatic watering and lighting features are ideal for busy cooks with limited time.
Grow light options vary widely, so choose LED lights with adjustable brightness and full light spectrum ranges to sustain herbs.
Basil and other sunlight lovers need brighter light up to 16 hours daily.
Read specs to pick optimal lights.
The overall size and sleekness of design matters for indoor garden kits.
Measure your countertop space and decor style.
Sleek silver or bamboo finished kits blend in beautifully.
By weighing these key factors against your herb gardening experience, time, and kitchen space, you'll discover the perfect hydroponic system for your fresh herb needs!
AeroGarden Harvest Indoor Garden with LED Grow Light
Product Overview
The AeroGarden Harvest is an indoor hydroponic gardening system that allows you to grow herbs, vegetables, and flowers year-round without soil.
Its LED grow light provides full spectrum sunlight to mimic natural outdoor conditions.
The Harvest can accommodate up to 6 seed pods and has a water reservoir for self-watering.
It's an easy, fuss-free way to grow fresh produce indoors!
Key Features
LED grow light panel provides full spectrum 20W illumination
Touchscreen control panel alerts when to add water and plant food
Room for up to 6 seed pods
Self-watering reservoir for continuous hydration
Compact 17.4 x 10.5 x 6 inch countertop size
Specifications
Dimensions: 17.4 x 10.5 x 6 inches
Weight: 5.35 lbs
Wattage: 20W LED full spectrum grow light
6 pod capacity
Max plant height: 12 inches
Water reservoir capacity: 1.3 gallons
Pros
Convenient way to grow fresh herbs and veggies indoors
Self-watering reservoir reduces maintenance
Full spectrum LED grow light optimizes plant growth
Produces rapid, abundant harvests
Compact size fits easily on counter or shelf
Cons
Initial cost may seem high, around $100
Limited to smaller plants under 12 inches tall
Plastic construction feels less durable than other models
Customer Insight
With close to 20,000 reviews on Amazon, the AeroGarden Harvest has a 4.6 out of 5 star rating.
Reviews praise how easy it is to set up and use, with many customers sharing pictures of their herb and vegetable bounties.
The self-watering functionality is a major highlight.
Critical reviews mention issues with the pump failing after a year or two.
Is there any flaw? Is it a dealbreaker?
The main flaw is that the plastic construction makes the unit less durable than other models.
However, the affordable price point around $100 balances this out.
As long as customers are aware this is a budget model, the plastic body isn't a deal breaker for most.
What's best for this product?
The AeroGarden Harvest is ideal for beginners wanting an approachable, budget-friendly indoor gardening system.
The self-watering functionality and pre-seeded pods makes this extremely user-friendly.
It's perfect for growing greens, herbs, and smaller vegetables in a compact space year-round.
Click & Grow Indoor Herb Garden Kit
Product Overview
The Click & Grow Indoor Herb Garden Kit is a self-contained indoor gardening system designed to easily grow herbs, vegetables, and flowers year-round.
It includes 9 pre-seeded pods, a water tank, and an energy-efficient grow light to automate plant care.
Key Features
9 pre-seeded plant pods – basil, thyme, parsley etc.
Automatic watering system
Energy-efficient grow light with 16hr on/8hr off cycle
Bamboo plant markers to label herbs
Sleek, compact countertop design
Specifications
Dimensions: 23.8 x 15.8 x 7.3 inches
Weight: 7.87 lbs
Wattage: Energy-efficient LED grow light
9 pod capacity
1.3 gal water tank
Pros
Automated plant care for easy growing
Produces flavorful, homegrown herbs
No noisy pumps or motors
Attractive design fits anywhere
Pre-seeded pods for instant gardening
Cons
High initial cost of around $170
Limited to smaller herb plants
Plastic body feels less durable
Grow light hood accommodates shorter plants
Customer Insight
The Click & Grow Herb Kit earns a 4.5 out of 5 star rating on Amazon based on 788 customer reviews.
Reviews praise the simplicity and automation, allowing effortless indoor gardening.
Critical reviews mention faulty pump issues in some units.
Is there any flaw? Is it a dealbreaker?
The main flaw is the high price point around $170.
For some customers, this cost is prohibitive.
However, given the automation and quality, it's not a dealbreaker for most indoor herb gardeners.
What's best for this product?
The Click & Grow Herb Kit excels at providing automated, mess-free herb gardening indoors.
For urban gardeners with limited space and sunlight, it's an ideal way to grow fresh herbs in the kitchen.
Ivation 7-Pod Indoor Hydroponics Growing System Kit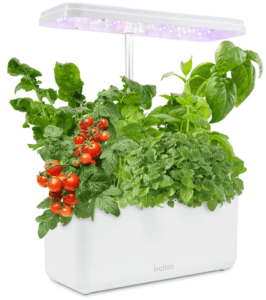 Product Overview
The Ivation 7-Pod Indoor Hydroponics Growing System Kit is an indoor gardening kit that allows you to grow herbs, vegetables, and other plants year-round using hydroponics instead of soil.
It comes with 7 plant pods, LED grow light, water pump, nutrients, and other accessories.
Key Features
7 plant pods with sponges and bamboo baskets
LED grow light panel with adjustable height
Water pump for circulating nutrients
Touch panel control with lighting cycle options
Nutrient-rich plant food included
Specifications
Dimensions: 13.8" W x 19.7" H x 5.6" D
Weight: 3.98 lbs
LED grow light wattage: 9W
7 pod capacity
Water reservoir capacity: 3.5 L
Pros
Grow herbs and vegetables hydroponically indoors
Adjustable LED light accommodates mature plants
Automated water pump for easy maintenance
Compact size fits on countertops
Affordable price under $60
Cons
Plastic construction feels flimsy
Pump reliability issues reported
Limited to smaller plants and herbs
Not as aesthetically pleasing as other models
Customer Insight
The Ivation Hydroponics Kit has a 4.1 out of 5 star rating on Amazon based on 323 reviews.
Positive reviews focus on the affordable entry into indoor hydroponic gardening.
Critical reviews mention issues with the pump failing over time.
Is there any flaw? Is it a dealbreaker?
The main flaw is the cheaper plastic construction and concerns about pump reliability over time.
However for the price point under $60, this is not a dealbreaker for most indoor gardeners.
What's best for this product?
The Ivation Hydroponics System Kit is best for beginners wanting an budget-friendly entry into indoor gardening.
The 7-pod design provides flexibility to experiment with different herbs and vegetables.
Benefits of Using Hydroponic Herb Garden Kits
Year-Round Fresh Herb Supply
For all you herb-lovers out there, hydroponic garden kits allow you to enjoy homegrown flavor any time of year.
While outdoor herbs wither in winter, an indoor hydro kit keeps delivering fresh leaves no matter the weather!
With the right lighting and nutrients, basil, mint, parsley and more thrive hydroponically.
Your kitchen will have a year-round supply of delicious herbs to spice up every dish.
Even in dark winter months, LED lights give your indoor plants the full sunlight spectrum they crave.
Space-Saving and Indoor Convenience
Let's face it – not everyone has an outdoor garden plot or even sunny windowsills.
Hydroponic kits are a godsend for urban herb growers with limited space.
These compact systems fit nicely on countertops and shelves to grow herbs indoors no matter your living situation.
Forget tromping outside through snow to snip herbs.
With an indoor hydroponic kit, your herb garden is steps away whenever inspiration to cook strikes.
They provide all the convenience of an outdoor garden without the space requirements.
Faster Growth and Higher Yields
Hydroponic kits excel at delivering optimal conditions for healthy plants.
With regulated water, nutrients and lighting, hydroponic herbs grow up to 30-50% faster than soil planting.
Your basil and mint will reach maturity more quickly thanks to precisely controlled conditions.
Without struggling in compacted soil, the plant roots expand faster to absorb more nutrients.
More robust roots mean higher leaf yield over the growing cycle!
Minimal Soil and Mess
No more hauling heavy bags of soil or ending up with dirt caked under your fingernails! Hydroponic kits provide a soil-free growing environment.
The plant roots are suspended in oxygenated and nutrient-rich water.
This eliminates soil-borne diseases and messy waste.
Kits come with recycled grow sponges or clay pebbles to support the plant roots.
But none of the hassle of dealing with actual dirt!
Controlled Nutrient Delivery
One major advantage of hydroponics is having total control over plant nutrients.
The water solution can be calibrated to deliver the exact minerals and nutrients your herbs need to thrive.
This precision and consistency results in optimal growth and highest quality herbs.
With soil, nutrient levels vary.
But hydroponic kits give your plants a perfectly balanced diet every time.
How to Get Started with Your Hydroponic Herb Garden Kit
Setting Up the Hydroponic System
Eager gardeners, the first step is prepping your hydroponic kit.
Carefully unpack all parts and follow the instructions to assemble the system.
Place your kit on a stable surface with access to power.
For a clean look, keep tubes and cords neat.
Add water to the reservoir up to the fill line.
Then pour in the included nutrient solution, which will feed your plants.
The pump will aerate and circulate the water to create a nourishing hydroponic bath.
Planting Seeds or Seed Pods
Now for the fun part – planting your herbs! Many kits come with pre-seeded pods that you simply place in openings.
Or you can add your own seeds to the included growing sponges.
Basil, cilantro, parsley and mint are great starter herbs.
Gently place seed pods or sponges into slots, ensuring they make contact with the water.
Some kits have handy seed markers so you remember what's planted where.
Monitoring Water Levels and Nutrient Solutions
One key task is checking water and nutrient levels daily.
Top off the reservoir as needed to maintain the fill line.
Every 1-2 weeks, drain and refresh with a new nutrient solution tailored to your plants' growth stage.
Following the kit's care schedule for water and nutrients ensures your hydro garden stays perfectly nourished.
Managing Light Exposure and Growth Conditions
Herbs flourish with 14-16 hours of daily light.
Position your kit to receive ambient sunlight if possible.
Supplement with the included grow lights as needed, adjusting height as plants grow.
Maintain ideal temps between 70-80°F.
Ventilate the herb garden to prevent mold.
Check that pump flow is vigorous to oxygenate the roots.
Harvesting and Enjoying Your Homegrown Herbs
In just weeks, your herbs will be ready to start harvesting! Snip leaves as needed, being careful not to overprune.
When stems get woody, trim plants for fresh regrowth.
Now have fun adding just-picked flavor to home cooking all year round! Your hydroponic kit lets you harvest the freshest herbs, right on your countertop.
Conclusion
We've reached the end of our hydroponic herb garden tour – hopefully you feel ready to start growing! Remember, keeping your plants thriving is all about regular care and maintenance.
Don't let all those tasty herbs go to waste.
Share the fresh bounty with family, friends and neighbors.
I hope these kit reviews and growing tips help make your hydroponic herb garden a delicious success.
Please reach out if you have any other questions – I'm always happy to chat gardening! Don't keep your new green thumb skills to yourself – spread the hydroponic herb love far and wide.
Now go get growing! Fresh homegrown flavors await.
Here's to happy, flourishing hydroponic herb gardens that will make any dish pop!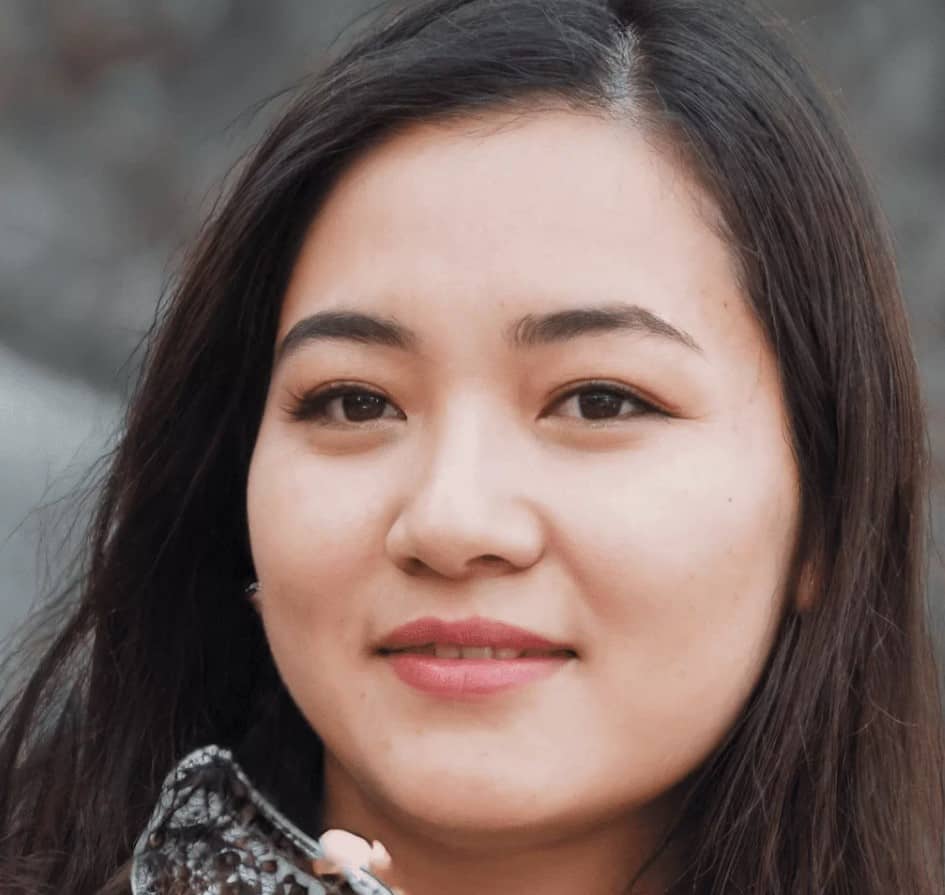 Crystal Erickson is an agriculture enthusiast and writer with a passion for sustainable farming practices and community development. Growing up on a family farm in rural Iowa, Crystal developed a love for the land and a deep appreciation for the hard work and dedication required to make a farm successful.
After completing a degree in Agriculture and Environmental Science from Iowa State University, Crystal began her career as an agricultural journalist, covering stories and issues related to modern farming practices, crop management, and livestock production. She quickly established herself as a respected voice in the industry, known for her insightful reporting and thoughtful analysis.
Over the years, Crystal has written for a variety of publications, including Farm Journal, Successful Farming, and Modern Farmer, as well as contributing to several academic journals focused on sustainable agriculture and community development. Her work has been recognized with numerous awards, including the Iowa Farm Bureau's Young Farmer Achievement Award and the National Association of Farm Broadcasting's Farm Broadcaster of the Year.